Inbound Marketing Services
Inbound marketing involves producing great content that attracts, converts and delights your audience.
Great Content Matters
Inbound Marketing Attracts Qualified Visitors to Your Website
You want your website to attract visitors and leads, and help covert them into customers. With increasing competition, Inbound Marketing has become very important to businesses to increase visibility and speak to their target audience, bringing them into the sales funnel.
Our marketing team follows the proven Inbound Marketing Methodology, using industry leading tools and a strong strategy to work smarter and help you grow your business. Your target audience will be served with the information they are actually looking for, and help bring these leads into the pipeline.
What is Inbound Marketing?
Simply put, Inbound marketing is a strategy that attracts the right kind of leads to your website when they are looking for a solution to a problem they are facing. This is achieved by creating valuable content that is specifically tailored to this audience.
As a HubSpot partner, we follow their best-practice Inbound Marketing strategies, which include
Attracting

your target audience with relevant information via multiple channels, including social media, blog articles, landing pages with content offers and more. Through extensive research, we develop buyer personas and create content that this audience wants to see, which increases the chances of converting these visitors to customers. This approach also builds brand awareness for your target niche.
Engaging

this audience and building long-lasting relationships with them, by providing them with solutions and insights to issues they may be having. This is an ongoing process, and as you build trust through engaging content, these readers can turn into high quality leads.
Delighting

your audience by giving them an amazing experience, empowering them to be able to reach their goals, giving them real value and making them advocates for your company.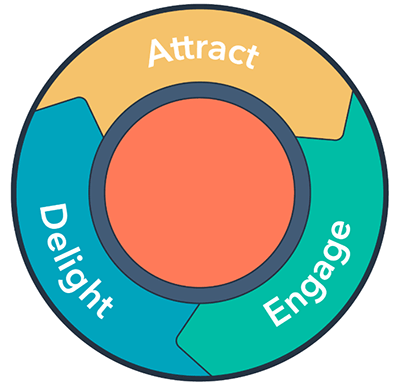 What Inbound Services Can We Offer Your Company?
There are many components to a full Inbound strategy that come together to make it successful. Some of the services we offer are:
Content Strategy
Creating engaging and relevant content for your niche that can be used in different forms including blogs, eBooks, Whitepapers and Infographics.
Buyer Persona Development
We can help you understand who your potential customers are, what challenges they face and how we can target and help them to become qualified leads.
Social Media Marketing
We can take full ownership of your online presence, engaging your audience through channels like Facebook, Twitter, LinkedIn, Instagram and more.
Marketing Automation
We can build automated workflows to streamline your processes and marketing messages to send the right content to your leads at the right time.
Pay-Per-Click Advertising
We have a wealth of experience in paid advertising management, and we can manage all your campaigns and maximize your return on investment.
Email Marketing
Creating engaging, highly targeted campaigns through audience segmentation, data collection, lead nurturing and studying your analytics.
Start Your Inbound Marketing Campaign